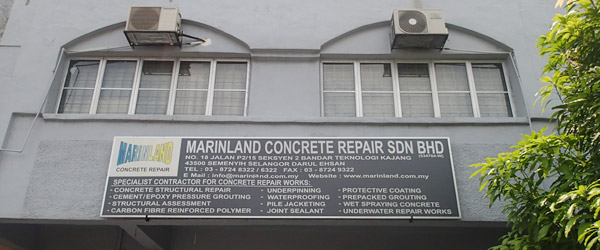 Company Introduction
Incorporated in the Millennium Year of 2000 December 13
To Be Most Reliable Contractor In Concrete Refurbishment And Leading In Marine Structural Repair Works.
To Provide The Professional Services In Concrete Assessment Even Underwater Concrete Repair With The Highest Quality Commitment Within Limited Time.
To Maintain The Excellent Track Record And Keeping Up With The Fast Moving Construction Industry.
Quality Policy
The management and staff of MARINLAND CONCRETE REPAIR SDN BHD are fully committed to provide quality services in their business operations by implementing the following:
To meet our client's needs and requirements as mutually agreed
To develop, implement, maintain and continually improve the quality management system accordance to ISO 9001:2015
To continually improve our services at all times
To appoint qualified suppliers and sub-contractors on all our projects
To manage projects efficiently and efficiently within the parameter of quality, cost and time
Subject to review continuing suitability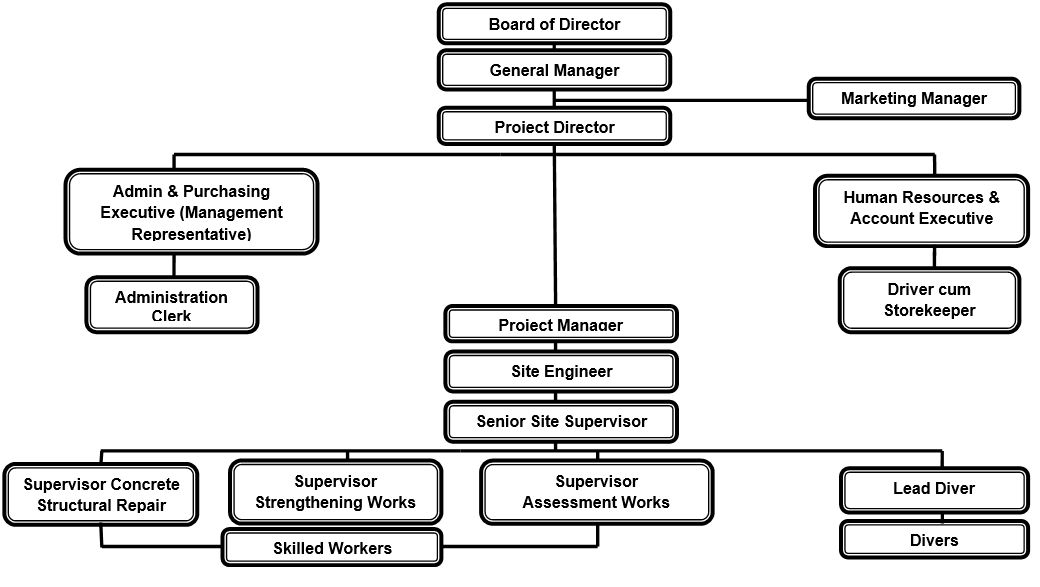 CIDB - SIJIL PEROLEHAN KERJA KERAJAAN (SPKK)
Reg. No
: 0120040217-SL092790
Grade
: G6
Category

: B-(Pembinaan Bangunan)
: CE-(Pembinaan Kejuruteraan Awam)

: ME-(Mekanikal dan Elektrikal)

Expiry Date
: 10 March 2023
CIDB-PERAKUAN PENDAFTARAN KERAJAAN (PPK)
Reg. No
: 0120040217-SL092790
Grade
: G6
Category

: B-B03, B04, B05, B06, B08, B13, B14, B24, B28
: CE-CE03, CE08, CE10, CE11, CE16, CE12, CE21, CE34, CE36

: ME-M15

Expiry Date
: 10 March 2023
ISO 9001:2015
MYQAS
Certificate No
: MYQAS(21)I21004B
Date of Certification Decision
: 02 January 2022

| | | | | |
| --- | --- | --- | --- | --- |
| Valid Date | | | : 01 January 2025 | |
KEMENTERIAN KEWANGAN MALAYSIA
Cert. No
: K63714813432772514
Ref No
: 357-02182483
Expiry Date
: 26 Febuary 2024
TELEKOM MALAYSIA BERHAD
Cert. No
: 1029818458
Supplier No
: 1024020
Category
: Building Maintenance, Road Maintenance Services,
Slope Protection Service
Expiry Date
: 08 November 2022
SHELL
Reg ID
: 2021918

Shell SQS
Product Code

: 6-15

Date Assessment

: 01.03.2018
BOUSTEAD NAVAL SHIPYARD SDN BHD
Reg. No
: 301063
Expiry Date
:16 March 2024
TENAGA NASIONAL BERHAD
Reg. No
: 3046596
Expiry Date
: 12 March 2024
JOHOR PORT BERHAD
Reg. No
: 77/2006
Category
: Non-Inventory (Civil Contractor-Project Works)
Expiry Date
: 25 July 2024
PORT TANJUNG PELEPAS
Reg. Cert No
77/2006
Reg. Date
: 25 July 2021
NORTHPORT (MALAYSIA) BERHAD
Ref No
: CS21/02-03/01-S (884)
Category
: Instrumentations, Micro piles, Soil Investigation,
Structural Concrete Repair
PUTRA PERDANA CONSTRUCTION SDN BHD
Reg. No
: PPCSB/ASPL-2881
Category
: Construction Projects
PENANG PORT BERHAD
Reg. No
: 204077
Date Reg.
: 24 June 2014